Where are they Located?
This is the sign board for Nanjichang Night Market.
Nanjichang Night Market.is located west of Taipei, and very local night market.

The night market is rather out of the way. You can take a bus from Ximen to here.
Here was airfield previously so They are called Nanjichang.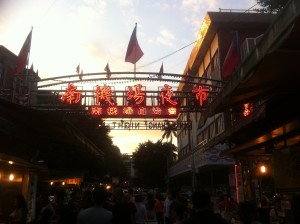 here Very crowded with locals.
other night market sells such as clothes and toys etc, but the night market sells foods only. You should be careful if you look around the stalls because the bike in anyway does , so danger.
 There are long line in front of this chicken stall.
This chicken(NT$40) is the popular food in this night market.
And moreover this night market has many Dumplings stalls.
This is a Japanese-style pork cutlet stalls. They are also popular here. Taiwanese love meat.

there is a seafood restaurant that All of the menus are 70 yuan.

 I came by bus from Ximen, it took just 10 min. You can take 12,204,223,bus.
 They are located in little inconvenient place, but I think that is night market that You can feel "Taiwan".
Address
Nanjichang Night Market

Lane 307, Section 2, Zhonghua Rd, Zhongzheng District, Taipei City, 100
Open 5pm to 12pm