What is "OpenRice"?
OpenRice" is a website like "Gurunavi" in Japan.
There is no Japanese version, but it is in Chinese, which is somewhat understandable because of the Chinese characters. There is also an English version.
The site has a lot of gourmet food recommended by local people.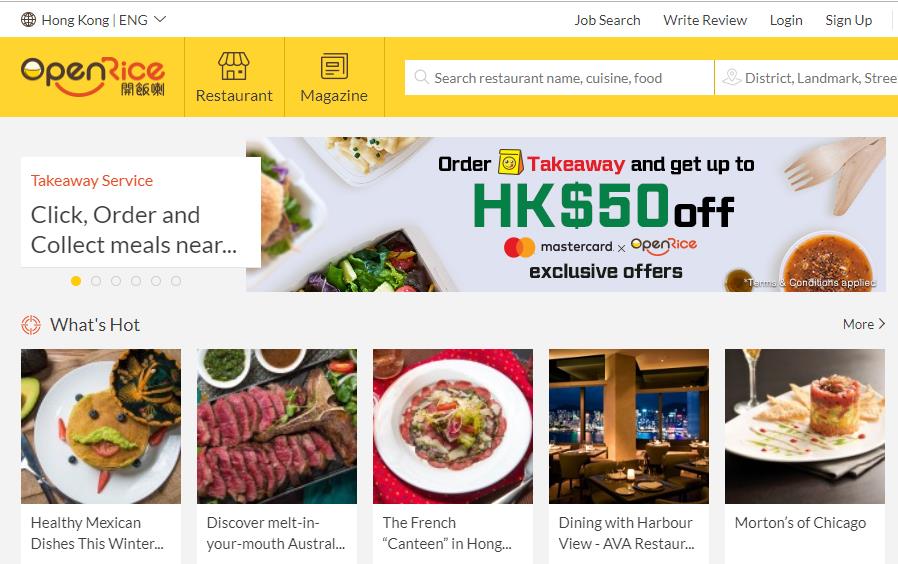 Website

香港で美味しいグルメを探すなら「OpenRice」が超絶便利!使い方を大公開!

香港に旅行に行く時に調べたいのが現地の美味しいグルメですよね。地球の歩き方とかにも載ってるんですが、できれば現地で話題になっているお店に行ってみたい。 知る人ぞ知る穴場レストランで舌鼓を♪なんて方も多
There is also an app, so search for "OpenRice" or "KaiHan".
You can save your favorite restaurants by creating an account and logging in. To create an account, click on the "New Member Registration" link at the top, or you can create one with your Facebook account.
Some restaurants can be reserved with the app, but there are still a few.
This site is so famous in Hong Kong that it is said that Hong Kong people visit this site first before going to a restaurant. There are many reviews on this site and it is very helpful.
Japanese Vegetable Ceremony
Japanese Cuisine・・・・Japanese Cuisine
Korean Cuisine
Thai Cuisine
Italian Cuisine
Shanghai・・・・Shanghai Cuisine
Foods
Self-supporting meal・・・・Buffet, self-service
Fire boast・・・ Hot pot
Sugar beet … Sweets
Roast・・・・Seared or grilled meat dishes
Mianbao shop・・・・Bread
[appbox googleplay jp.ejapanese.canton1000].
Restaurants
Shuro・・・・・Wealth pubs
Cafe on the roof・・・・Cafe
Restaurant
Western-style restaurant
Coffee shop・・・・Coffee store
These are the Japanese translations of the categories.
It is also useful to know the approximate prices.
This is a must-have item for frequent visitors to Hong Kong and Japanese people living in Hong Kong, so please use it.
You may be able to find a good place to eat in Hong Kong.