Where are they Located?
Taipei Confucius Temple is located about 10 minutes walk from the MRT "Yuanshan" station.
The red brick is their landmark.
The bus from Taoyuan airport also goes through in front of here. They close Every Monday.There is no entry fee.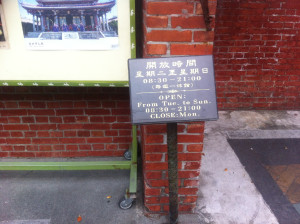 Once you enter, You can see peaceful green space. 
You can get  English brochure here.
Children were playing.
This gate has 108 pieces nails struck by.This is both an active temple and an education center. There are several interactive displays in English that cover various aspects of the philosophy and the culture, including math and music and writing, to name a few. We also enjoyed the little tea house.
This is an older less elaborate temple but obviously of historical significance. Interesting to read the various stages of Confucius' life, seemed to be quite an intelligent and influential person who devoted his life serving the public. Also worth visiting the Baoan Temple next to this temple.
Address
Taipei Confucius Temple
No. 275, Dalong St, Datong District, Taipei City, 台湾 103
Tue~Sat8:30~21:00Sun8:30~17:00
http://www.ct.taipei.gov.tw/
Map