Where are they Located?
Changqing Dumpling restaurant continues from 1958, boasts long-established store of Shandong-style grilled dumplings and water dumplings.
Skin of their Dumpling is baked by peanut oil so very moist crunchy .
The location is near the intersection of Zhongshan North Road and mingquan East Road. You can access them from MRT mingquan West Road station.
Shop sounds pretty retro. It is quite crowded. There were also foreigner customers.
Clerk is not good attitude. Apparently, it seems that many regular customers.
Pork baked dumpling 280NT$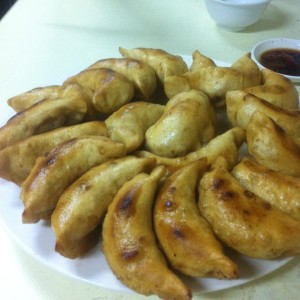 Baked dumplings and water dumplings are accepting orders from 20 the lowest.
It is quite a volume. ut you can take them away home.
The oil they use is quite special. Skin is also to completely different from other dumpling.
By the way, they have sold the dumpling over 50 million pieces so far.
Address
常青餃子館
No. 1, Lane 183, Section 2, Zhongshan N Rd, Zhongshan District, Taipei City, 104
Open:11:00~14:00、17:00~20:30
Closed:Secound、Forth Monday
MAP: